04/05/2023 Minor update released across all platforms
Fix for missing HUD on Windows
Improvements to TrainingPeaks, Today's Plan & Final Surge imports
Integration for TriDot workout syncing
A number of minor behind-the-scenes bug fixes
The most up-to-date version numbers are:
Windows: 5.0.8.0
iOS: 5.0.8
MacOS: 5.0.8
Android: tbc
NOTE: Most devices will automatically update FulGaz when installing regular app updates, but it's always worth checking your relevant App Store to ensure there are no pending updates.
-----------------------------
25/03/2023 All-platform release for additional FulGaz V5 improvements
Fix for Windows app login / appearing offline / upload issues
Apple TV HUD sizing adjustments
Speed and cadence sensor connection issue resolved
Fix for CORE body temperature sensor connectivity
Improvements to workout screen layout
Hide gradient chart option now working correctly
Minor ride filtering improvements
Strava image upload improvements
MacOS multiple-monitor screenshot issue fixed
The most up-to-date version numbers are:
Windows: 5.0.7.0
iOS: 5.0.4
05/03/2023 Major update to FulGaz V5 released
We're proud to announce the release of Version 5 FulGaz! This release updates the look and UX of FulGaz and also adds a number new and/or improved features to the app. This update has been released across all platforms, so should install automatically or be available to update via your device's Store.
The most up-to-date version numbers are:
Windows: 5.0.3.0
iOS: 5.0.3
New features and bug fixes in this release include...
Redesigned main menu screen and updated graphics
Updated ride thumbnails - each image now includes elevation profiles!
Thumbnails also show ridden and favourites tags
New "YOUR RIDES" menu item where your favourites and sections are stored
In-app filtering and ride search improvements
Trainer connection screen moved to the main menu
Memory usage reduced during group rides and event rides
Group ride system overload crash issue fixed
In-ride segments now showing correctly (Windows-specific)
Dedicated EXIT button added (Windows-specific)
Various other bug fixes and behind-the-scenes app enhancements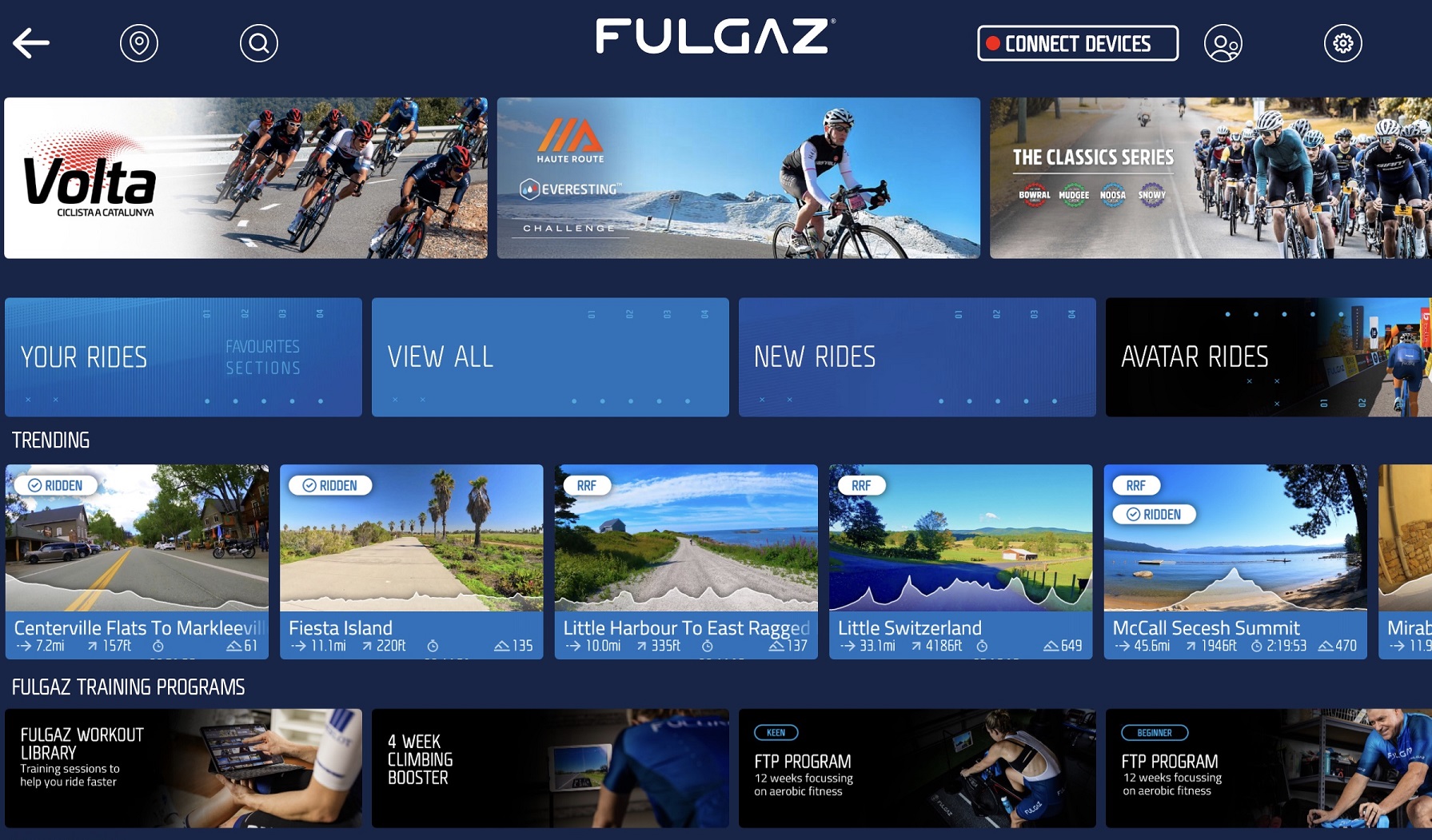 21/11/2022 Important software update for all platforms
A release across all platforms that includes a number of important bug fixes.
Windows: 4.50.50.0
iOS: 4.3.30
Fix for Wattbike crashing on ride start
Workout mode FTP/TSS line
Fix for Clear Cache function not clearing caches
Fix for ERG/SIM mode button and Elevation chart toggle
Hardware acceleration
FulGaz.Communication module error message fix
Windows full screen / resizing options
Return of the toughness triangles
28/09/2022 Update to include AVATARS on Apple and Windows
Over the last year, we've undertaken one of the most ambitious projects to date, creating Avatars to enhance your FulGaz ride experience. We've worked tirelessly with world-class graphic artists, top-level riders, and our team of developers with the goal of delivering the best indoor training experience.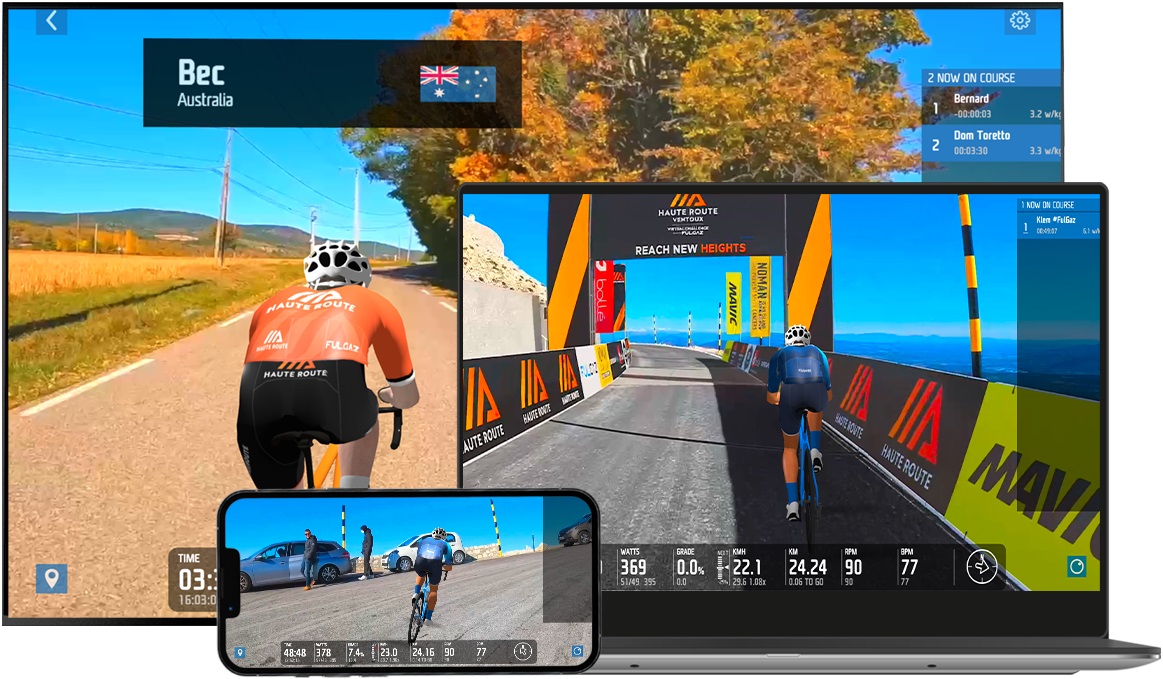 Avatars are available on iOS, MacOS, Apple TV, and Windows. Due to the varying performance of Android devices, Avatars are not yet available for Android.
Windows: 4.50.32.0
iOS: 4.3.28
Full virtual Avatar functionality added to FulGaz!
Avatar Customisation menu, customise the look of your Avatar
Avatar ride collection added (more information here)
Fix for the TrainingPeaks sync bug
Fix for account-related "crash on login/start-up" bug
Various performance enhancements and other minor bug fixes
02/08/2022 Minor software update for Apple and Android
New: Ability to sort rides by duration
New: FulGaz appended to Strava automatic upload ride titles
Incorrect gearing number for KICKR Bike fixed
Fix for inconsistent activation of Challenge riders
Resolved "trimmed" versions replacing full rides in Trending row
Resolved missing "enter Group Ride code" in settings menu
Fix for some rides still syncing even if Strava access revoked
Enhancements to Avatar functionality for future releases
General behind-the-scenes performance updates and bug fixes
07/07/2022 Update for Apple devices (Android and Windows release coming shortly)
An update has been released that includes some important app enhancements. This is live for all Apple platforms now (iPhone/iPad, Apple TV, Mac) with Android and Windows to follow shortly. The latest version numbers are:
Challenge mode rider times "reverting to steady" bug fixed

Apple TV video playback enhancements

Group/event ride "line map" syncing bug fixed

Updates to Section feature to reduce non-playback

Updates to Group Ride feature for date display, creation and deletion of private rides

Improved connectivity for certain Tacx trainers

New translucent HUD added to Windows

Fixed Windows apps crash when using in-ride settings

Fixed trimmed ride playback issue on Android

Fixed NAS playback issue on Android

Fixed issue with external drive rides on MacOS

Improved ride list refresh on app start up
28/03/2022 Update for all Apple devices (iOS, tvOS, MacOS)
An update has been pushed to Apple TV, MacOS and iOS. This update contains a number of important software enhancements, including a fix for the "stuttering" on some Apple TV devices. For Apple TV, the option to disable HLS Streaming has also been added into FulGaz settings -> video settings.
Please disable HLS Streaming if you are still experiencing playback issues.
The latest version numbers are:
4.3.23 for iOS
4.3.22 for Apple TV
(Updates for Windows and Android to follow)
This update includes the following fixes, plus several other important behind the scenes bug fixes and feature enhancements:
New lower-screen translucent HUD, replacing the old "either side" HUD

Sizing options for HUD (sm/med/lg in display settings)

Improvements to ZWO syncing from your Member's Page

Improvements to Challenge mode data handling

Fixed ride data syncing with Ironman VR

Fixed segment display issue affecting some accounts

Fixed "stuttering" issue (Apple TV)

Private group ride start times now displayed in user's local time zone

New onboarding screens for first-time account setup
12/01/2022 Happy New Year! New ride trimming feature!
This update includes the new RIDE TRIMMING feature, where you can select and save a custom "section" of any ride. Now you can start and finish your ride at any point by creating your section. Sections can also be used for group rides. Other features in this update include:
Now using adaptive bitrate streaming (HLS)

Integration for Final Surge accounts via your Member's Page

New bike computer / HUD toggle switch

Fix for Today's Plan sync

Integration with Ironman Virtual Club

Various minor bug fixes
Apple iPhone/iPad: 4.2.15
Apple TV: 4.2.13
Android: 4.91
Windows 10/11: 4.2.15.0
MacOS: 4.3.2
08/08/2021 A minor software update for all platforms. This update includes some important connectivity improvements for certain trainer models, plus other behind-the-scenes improvements. Improved video download and streaming quality, improved Elite trainer support, in-ride slope scaling for KICKR bike (via right top of lever hood buttons), additional stability and bug fixes.
Apple iOS / tvOS: 4.1.12
Android: 4.48
Windows 10: 4.1.31.0
MacOS: 4.2.31
10/06/2021 Fix for some devices not showing up on connections screen, menu performance optimisations, support for Stages Smart Bike, Elite Novo / Qubo / B+ trainers. Improved group ride multi-lap leaderboards and event timing systems. Fix for "crash on resume" saved ride issue (Android).
21/03/2021 Windows 10 specific update to version 4.1.13.0 to fix the "closing to desktop from menu pages" bug affecting a handful of Windows 10 devices.
15/03/2021 Software update containing minor bug fixes and layout adjustments.
Apple iOS and tvOS to version 4.1.8
Android to version 4.21
Windows 10 to version 4.1.10.0


19/02/2021 Software update to version 4.1.6 for iOS and tvOS, 4.19 for Android. Windows update is pending approval and should go live within the next 48 hours.
Tacx NEO 2/2T erratic cadence bug nailed!
Resistance control support for older-model Kinetic Smart Control trainers
Resistance control support for Saris Hammer and H-series trainers
Fix for workouts where lap changes were causing instability
10/02/2021 Software update to version 4.1.5 (563) for iOS and tvOS, version 4.1.7.0 (7) for Windows 10 and version 4.18 (563) for Android.
Fix for users in some regions who could not register
Cadence for certain Kinetic trainer models fixed
Improved buffering for local streaming from NAS or MAMP server
28/01/2021 Today's FulGaz software update includes a number of important connectivity enhancements and additional support for new trainers and devices. This updates has a fix for the Tacx NEO (and other trainers) no longer giving resistance changes or ERG mode. Other improvements include:
A number of device connectivity improvements

Fix for Tacx trainer connections

Warning if trainer control is not connected before proceeding

Support for the new Wahoo Direct Connect device

Group ride performance enhancements

Assorted stability-related bug fixes